Reading Time:
8
minutes
Jocktoberfest
So, with Belladrum firmly in our rear-view mirrors you'd think there was nothing to look forward to but the sweet release of death or Brexit, whichever comes first. But you'd be wrong! Our favourite teeny, tiny, sunshiney festival is back at the end of the week – Jocktoberfest!
For those not in the know, Jocktoberfest is a music-shaped festival based in the idyllic setting of 'oot the road a bit' at the Black Isle Brewery. It's a two day event which features heavy on the 'emerging talent' music scene and even heavier on the organic ales and tent-based shenanigans scene.
I make the effort to go every year as it's a perfect antidote to the bigger, badder, busier festivals that happen throughput the summer. Even from moment one of arriving at J-fest it sets itself apart from the rest of the pack when you are welcomed in by gate staff whose friendly patter is more akin to being greeted by a warm bosomed dinner lady rather than the more frequently endured where we are subjected to an almost-internal exam carried out by the Securicor branch of the Spanish Inquisition (RIP TITP). They don't seek to violate nor interrogate the revellers – they just make sure you had a ticket and weren't a total roaster. That sets the tone for the rest of the festival as it feels more like a BBQ in your mate's back garden if your mate owned like a Brewery and a flock of sheep, and a barn, and a bar, and like pizza vans and stuff. He'd be a good mate to have. Anyway, my point is, it's dead friendly and a we all have a lovely time.
Dead wee and dead good should be its tagline. You can stand in the middle of the arena (a farmyard) and be less than 25 yards from the main stage, the campsite and the all important Black Isle bar all at once. It's worth mentioning that this is a bar that refused to take advantage of its captive audience by hiking up the prices like many of its competitors would do. Thankfully, the bar prices are comparable with pub prices so one can get pretty tanked without breaking the bank (please drink responsibly, ya radge).
This year's theme is Under The Sea and costumes are encouraged. I don't dress up merely because I'm a miserable bastard, but other people do like to indulge in the costumery or at least force their kids into taking part in the fun.
We published a couple of reviews of last year's Jocktoberfest, so if you want to know more about what to expect, start here –
https://thenettle.scot/jocktoberfest-2018-friday-7th-september/
MUSIC
"So what kinda music can we expect" I hear you ask.
Good question.
I'm glad you asked.
Here's a small selection of musical highlights –
Tom McGuire and the Brassholes –
Funkier than James Brown and Funkadelic having a fistfight in a Wetherspoon's carpark, this lot specialise in high energy funk and have a pure infectious attitude at their live shows. I saw them most recently at Belladrum and they demand not only the crowd's full attention, but their filthiest dance moves as well. Their breakout tune 'Ric Flair' is a banger and you'd be silly to miss it in such a great setting as the Black Isle Brewery Barn. See the YouTube vid below –
Root System
A good-time taps aff ska band. There will be more skanking going on at the barn during their set than on any grab-a-granny night in Johnny Foxes. Jocktoberfest loves a wee skank almost as much as yer dirty Da' and this lot will get the knees up of even the most ardent of shoe-gazers. I'm very eager to spill most of my pint during their set.
Gleadhraich
The comparisons with the Red Hot Chilli Pipers must do this band's head in, but it's a very easy comparison to make. Bagpipes and covers of some big ol' party tunes should make their set a favourite with the crowd. They'll play stuff you know and stuff you'll dance to. You can't say fairer than that.
The Vandal
The Vandal has been quietly making his way in the Scottish rap scene and is pure gaining momentum having recently supported the likes of Black Grape. He's a straight-up lyrical rapper who'll be fresh from his Belladrum set that was the talk of my tent as well as the toon. He's a raw lyricist, a slick performer and very unapologetic about his rhymes, which I absolutely I dig. Worth seeing.
The Dihydro
Easily my favourite local band right now. They've got more swagger than your uncle after winning on a coupon and that uncle happens to be Josh Homme. For a mere two-piece (guitar and drums) they produce a terrifying sound that shook up Belladrum at the start of the month. If you take Garden of Elks and mixed them with some filthy, sweaty rock 'n' roll and grunge then you'd get close to the sound this pair offers. Watch out for their tune about Nigel Farage, it's a banger.
That's just a few of the musical treats in store across the two stages over the weekend. There's a pretty eclectic mix of musical genres and it looks like there's probably something there for everyone. Couple the musical marvels with the frankly orgasmic Lamb burgers on offer for yer dinner and the panacea that is the Black Isle Brewery's back catalogue of beers, and you've got a beauty of a weekend for under £40 with camping included.
The thing about Jocktoberfest is that it is a far more amiable festival than I'm used to. People put their rubbish away, the lamb burgers are served with salad and in the way of toilets one was treated to a 'Wee in the Woods' instead of the usual 'Piss in a Skip'.
So, in summary… braw. We should all go.
Tickets going fast but are still available –
https://www.blackislebrewery.com/jocktoberfest/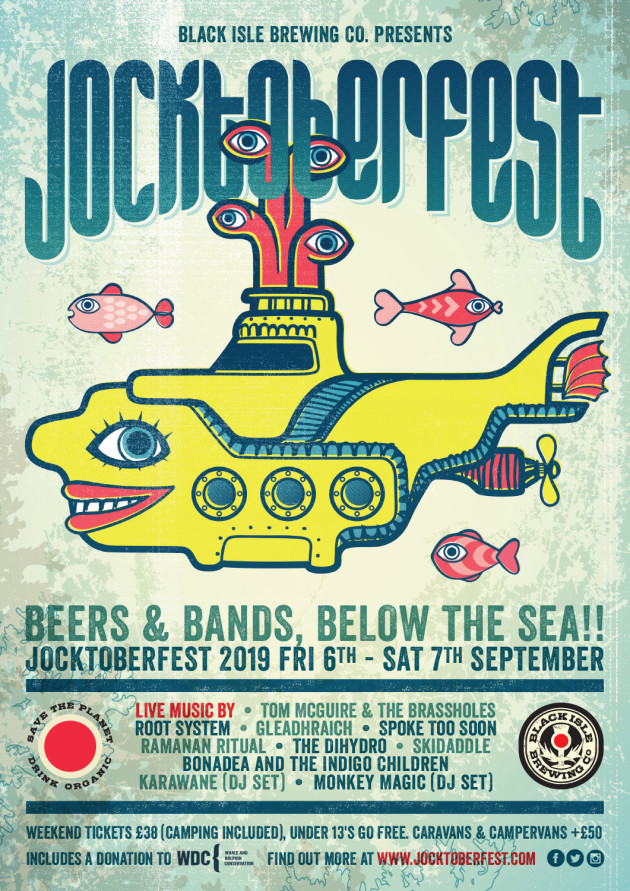 JocktoberFest 2019 – A preview big on memories, short on facts:
cornwallace
Hello there all. Unlike my fellow castaways who washed up here at TheNettle, I didn't get to Belladrum (Note – it's an 'Under The Sea' theme for JocktoberFest this year. I'm going to milk the thematic wordplay out of that until I get sick of it – fair warning).
Bella a lovely festival. A piece of wonder – everyone agrees. However, not having a pirate's hoard at my disposal last month, I had to sit it out, Otis Redding style. This is a strange way to start a review on an entirely different festival, with an entirely different feel – I do realise this. However, as Belladrum is probably sitting fresh in the minds of many, it is a good counterpoint to show both what J'Fest is, and what it is not. And as I missed Bella because of the vast amounts of money required to both get there and eat and drink there, the first points of comparison go very clearly to those putting on the show at the Black Isle Brewery, for the pure fact of being able to afford to get there. At about ¼ of the price, I'm not only getting there, I'm planning to indulge (in an adult and responsible way, naturally) in the other good things of the festival.
Some of these things are in the realms of the Gods. That it is 'under the sea' as a theme, I hope that they haven't piqued the interest of Poseidon – there's been a blissful run of quite unseasonably fucking fantastic weather at JocktoberFest the last few years, and I'm hoping that this continues, and is not feeling under the sea in either the campsite or the staged areas. There's a whole heap of straw they inevitably put around, but here's hoping it doesn't need to soak up the mud and the rain, and that the sunshiney goodness run of the last few years continues.
Of the things that can be controlled, they do it well. As a brewery, they have both the opportunity as well as a good knack of trialling a range of their experimental and upcoming beers on the punters. I was more than happy about that last year, although what I thought was the pick of the bunch (Brown Bear Ale, from memory) never made it into the pubs, so maybe there's more going on in that calculus than I know. If you are from the Brewery and thinking of putting this beer back on this year – please do. I shall ensure (in an adult and responsible way) that it is a profitable decision…
Anyway, the beers are good. The music is good. The food is good. I have missed out on the lamb the last 2 years, so have another suggestion while I have the chance – if your gonna kill one sheep for the pleasure of the bloodthirsty mob, why not another? Twice the profit, twice the greasy joy on the lips of the paying public. We could even sacrifice them in the name of Poseidon in the hope He keeps the waters at bay. Mmmm, sacrilicious!
When it comes down to it, JocktoberFest boils down to a few simple things. A small festival where you get characters at play. People you know, and people you bump into enough times in the small space that you get a chance to know them if ya wanna. The dressing up thing is always a thing which is taken on board by a good % of the crowd as well, so besides being hilarious and creatively inventive, it is also a good angle to start up a chat if you're that was inclined. Which many seem to be at this festival which is all about the snug comfy closeness of it all.
In terms of music, I can honestly say I haven't much paid attention yet. However, I've perused Fremsley's useful, short rundown and have a few options now to start thinking about.
All you really need to know is that they focus on local as well as up-and-coming acts. The festival gives them a chance to perform in front of a decent, happy, swing-along-into-it crowd. What this means for the most part is that the crowd gee-up the bands, the bands who are having an opportunity gee-up the crowd, and it is a lovely rising tide of good times there right at your fingertips, should you choose to be down in the stage area. You might just as easily be soaking in the sun and atmosphere up at your tent, or knee-deep talking intense bollocks to someone for the sheer joy if it. These things all happen at J'Fest.
If you're inclined to angle towards the bands, you might not know all of them unless you're a die-hard music aficionado, but it really doesn't matter. It is a festival in which to explore such things. To try new bands, check them out, enjoy them if you do, wander off if you don't or go and lie in the sun near your tent just as likely as well, full of good food, good drink, and those warm fuzzy feelings that primary school teachers like to talk about. I'm hoping to get to see some new bands and become a fan of some of them, but if I don't then I know I'm still going be loving JocktoberFest for the other bits of goodness floating around.
If you're inclined towards such things, as all at The Nettle are, then head along. There's gonna be at least one thing there that'll make you happy you did.
Follow us on social media